I've Got A Loverly Bunch of Coconuts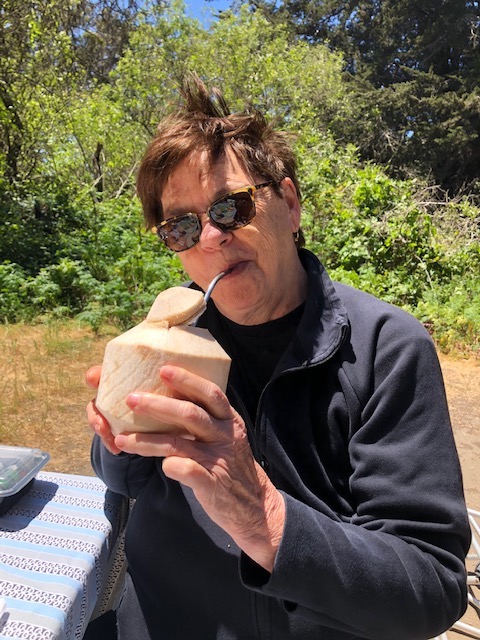 Mission Accomplished. We were at the market by 8 to buy all the young coconuts they had. Of course, Nancy and Tamara had the obscure tool (thanks to Amazon) to bang a hole in the top and after I made room for the vodka by drinking some of the coconut water, it was time for lime. It's the drink of the casa, and I love it.
I'm in Sonoma with my pals who recently relocated from Seattle. Over the years, we've travelled the world together..Greece, Spain, England, Holland ….. We've rented houses in all those places and have settled into vacation mode many times. If the walls of their new house weren't filled with their personal collection, and the cupboards and fridges weren't supremely stocked, we could, once again be on vacation together.
Picnic/day trip to Bodega Bay was planned before I arrived. Tamara packed the car, we picked up some fresh fish stew from a local seafood restaurant and headed for our reserved campsite. We had no intention of spending the night, but wanted a table, a firepit, and some protection from the elements for the afternoon.
We were about to find out the meaning of "high wind warnings", something the weather woman on Channel 5 had been talking about just last night.
Drove up the coast and pulled over to soak up the view. The car doors were nearly ripped off their hinges when we got out to take in the view and the best you could do was hold your ground while the wind howled and tried to blow us away. We each lasted long enough to snap a couple of photos before we dove back into the car laughing like crazy women. Back to the campground we went.
I was needy before I left Seattle. I needed to see different faces, different scenery. I needed to break the tedious but effective routine that got me through my covid isolation. I needed distraction. And here I am breathing deeply, sipping on coconuts, happy to see my friends in their new lives and getting ready to move on down the road.